Insomnia
PASIV Device
Portable Automated Somnacin Intravenous Device
The PASIV Device was created to facilitate the use of Somnacin in the field by agents with only basic medical training. The device consists of Somnacin reservoirs, pumps, IVs, and vital sign monitoring equipment capable of supporting up to 10 dreamers. The device has built in equipment to monitor and control the flow of Somnacin automatically without the intervention of the agents. The device is housed in a large hard shelled briefcase and contains its own dedicated power supply that will run the device for up to 18 hours on a single charge. A single PASIV Device is able to hold and administer up to 100 doses of Somnacin. Each dose produces 1 hour of shared dreaming in one person.
PASIV

Device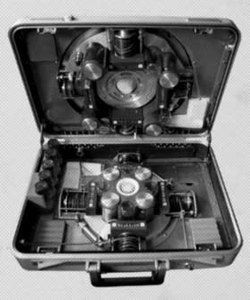 Caliber II; Battery 18 hours; 8 lbs. Gives +10 to Medicine checks made to administer Somnacin.
Comes with 20 standard doses of Somnacin.
20 additional standard doses are a Caliber I pick. 20 doses of Somnacin/anesthetic is a Caliber II pick. Somnacin mixed with a general anesthetic is required in order to conduct dream sessions that are longer than 6 hours. 20 doses of Somnacin weigh 2 pounds and are about the size of a shoe box.
Standard Somnacin requires a DC 15 Medicine check to administer to a group. Anesthetic Somnacin requires a DC 25 Medicine check. In both cases, it takes 1 minute per participant. If not using a PASIV Device, choosing a specific duration for the dream adds 5 to the DC and adds 1 to the error range for the check. Otherwise the participants wake up individually 1d12x5 minutes after the last dose wears off.